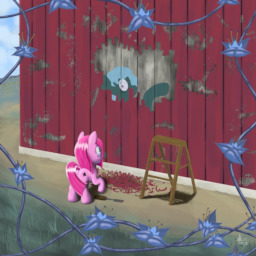 This story is a sequel to 2-D Pony
---
She ran up to scrape more paint off so she could admire it better, then froze. The eye was still looking at her. This wasn't the usual illusion that came from perspective drawing, where an image appeared to look directly at the viewer no matter what viewing angle they took. No, the eye had turned, and followed her as she moved toward the ladder.
While chasing after a mischievous thieving phoenix, a young filly uncovers one of the most horrible and tragic blunders ever to happen to a citizen of Ponyville. As her mother and friends try to run from their past, Ink Blot will learn that some jokes are not funny at all.
The shocking sequel to my other story, 2-D Pony.
Special thanks to Web of Hope for helping me edit this story.
The cover art was done by the very talented SagebrushPony.
Chapters (7)