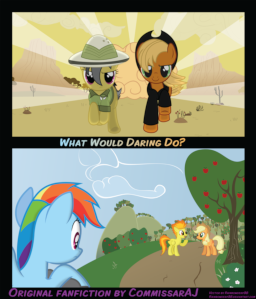 Source
There are two types of ponies in the world; those that read love stories...and those that write their own.
Rainbow Dash and Applejack have been friends for years. But after a seemingly harmless game in the orchard awakens Rainbow Dash's deeper feelings for her friend Applejack, she is determined to ensure that her friend has a special somepony for Hearts and Hooves Day. But what will Dash do when that pony isn't her? Can she stand on the sidelines and watch her friend find happiness without her? Can Dash find the answers she needs in the latest tale of Daring Do?
Cover image credit goes to RainbowDerp98
And be sure to check out the sequel, Where Would Rainbow Dash?
Chapters (20)