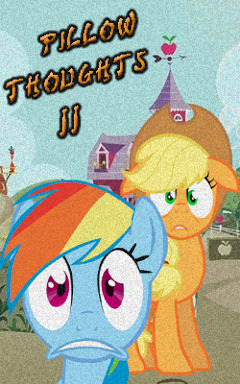 FINISHED! - Now with song included!
Well, as you probably figured it out, this is the sequel to "Pillow Thoughts" (AppleDash), which you can find here:
http://www.fimfiction.net/story/6563/Pillow-thoughts
I honestly have no idea what's going to happen in this sequel. o.O This is all your fault, fans. You wanted this.
Let's explore it together, shall we?
-------
A huge thanks to Flutterbrony for proofreading "Pillow Thoughts" and for offering to proofread this one too.
A huge thanks to Daniel-Gleebits for proofreading "Pillow Thoughts II" and helping me out with some neat English skills.
Applejack vector by ~Terton-the-Shinigami
Rainbow Dash vector by *Takua770
Chapters (10)