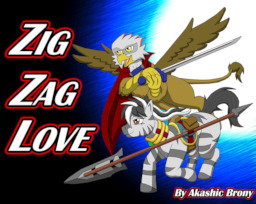 Source
The mighty Griffin Kingdoms with their new War Wing airships have ventured forth to conquer their neighbors. The Zebra Tribal Confederation faces complete defeat as War Wings cast shadows upon their sovereign soil. A desperate plan is born to change the winds. Meanwhile a Griffin meets a Zebra.
War and Romance as these two lovers dance. The fate of two nations teeters on the brink.
We now have a Wiki Entry!
Executive Editor Ignis
Character Cast Portraits Included.
Reagle Hawkmor
The Griffin Kingdom's Warrior Prince who has won many 'clean' victories earning celebrity even beyond his position. Honorable to a fault, he may find the politics of Griffin Imperial Court hold different values.
[img]http://xcaliberproject.com/wp-content/uploads/2013/05/Reagle-Hawkmor-Avatar.png[/img]
Zaza Zakar
Among the last of the infamous Zebra Zerkers, she like her brethren feel no pain in combat. Given a special mission the fate of her people will depend on her success or failure. Her feelings outside the physical though perhaps might be more challenging.
[img]http://xcaliberproject.com/wp-content/uploads/2013/05/Zaza-Zakar-Avatar.png[/img]
Nokimbe
A banished criminal, he became a spy to redeem himself. Having travelled the continent he has many connections.
[img]http://xcaliberproject.com/wp-content/uploads/2013/08/Nokimbe-Avatar.png[/img]
Isara
She is an Ibex with battle scars that would have killed lesser fighters. A songstress, her singing soothes the war weary souls of soldiers. She owns the "Fighting-gale" a seedy water hole.
[img]http://xcaliberproject.com/wp-content/uploads/2013/08/Isara-Avatar.png[/img]
Ironbeak Ironclaw
Reagle's cousin, he lives in the shadow of greater Griffins. Meek and weak he does little upon his own initiative. He is heir to Ironclaw the secondary house of the Griffin Kingdoms. While none fear him, all respect his lieutenant.
[img]http://xcaliberproject.com/wp-content/uploads/2013/05/Ironbeak-Ironclaw-Avatar.png[/img]
Dori Bloodtalon
A female Griffin Commander, she attained her rank by skill, will, and kill. Self-appointed heir of House Bloodtalon, none of her brothers or even her father dare oppose her.
[img]http://xcaliberproject.com/wp-content/uploads/2013/05/Dori-Bloodtalon-Avatar.png[/img]
Banshee
Leader of the elite unit called the Ravens, she is Lord Ironclaw's adopted daughter. Whereas Ironbeak was a disappointment, Banshee is the exemplar to his expectations. The tone she carries forth into battle is indifferent. It is rumored that she lacks the capacity to feel.
[img]http://xcaliberproject.com/wp-content/uploads/2013/06/Banshee-Avatar.png[/img]
[img]http://24.media.tumblr.com/a257ad5165644b1f79354634dfdee284/tumblr_mqo61uYbwk1rj6vd5o1_400.png[/img]
Chapters (15)