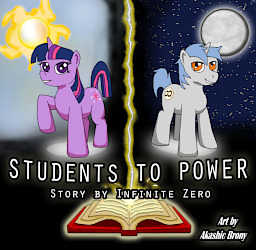 The princesses are seen as the pillar of Equestria. Stable, unmoving, and powerful.
But there are many things that are hidden from the world. Power struggles and dark secrets surround the royal pair. It's been 300 years since Celestia took on a student and longer still for Luna. Together, they have decided to select two foals from this years crop of candidates.
A young colt, a dreamer who is constantly creating new ideas and theories. And an even younger filly, a bookworm who is well-read on every subject and even more so on all matters magical. Together, the two of them will be swept away in the excitement, the honors, and the dangers of being pupils to the Princesses.
Through all the struggles, the good, and the bad, there will be two words that gain a whole new meaning for them.
Brother. Sister.
(Editor and Sub-Writer - Unknown)
(Rated Teen for violence and sexual implications)
(Special Thanks to Crackshot for his help as well!)
(Go check out Akashic Brony's works! His art is just amazingly well done for what he works with!)
Chapters (4)