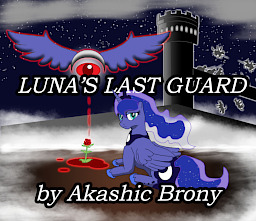 Source
A tale of loyalty, love, and longing. Sanguine Soul is Captain of Luna's Guard. The Lunar Rebellion is at its end. Her Last Guards fight desperately to forestall the inevitable. Meanwhile, secreted away, Luna devises a plan that might change history's course.
Collaborative effort with BitAcoustic
This storyline is part of the Hole Hearted Universe and explains Luna's motivations behind her actions.
Warning, contains mature themes regarding war and violence. May not be suitable for the squeamish.
Cover Art by yours truly.
Chapters (1)