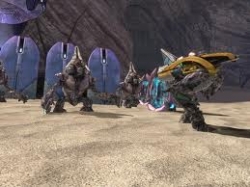 The Redemptive Penance is destroyed by a slip-space disaster. Out of the survivors, three Unggoy are all that's left. However, these grunts are on a planet dominated by...ponies.
As they come to terms with their current situation, these three stooges find themselves in for a wild ride.
But what is the anomaly that struck their ship?
And are they the only visitors to Equestria?
Special Thanks to WeezilOfMods on deviantART for being the editor of the story.
http://weezilofmods.deviantart.com/
visit his channel.
This story is using characters from both the Halo and My Little Pony universe, as well as references from the popular RoosterTeeth series, Red vs Blue.
Chapters (12)