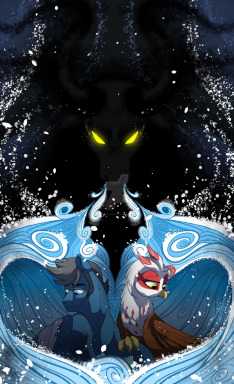 Source
The First Contact War. It was a war that would change the fate of Equestria.
Equestria and the Gryphon Empire have fought for many decades, both sides suffering heavy losses. But the tide has turned in favor for Celestia and her allies and seek as end to this war. After pushing back against the Gryphons they fall upon the last bastion of the Gryphons, the capital Prance, where much death has gripped this once beautiful city. As the Equestrian Army and its allies recovered what was left from the city, they now looked to finish claiming the rest of the land, and find those responsible for such slaughter.
For one Equestrian royal guard, by the name of Quicksilver, he sees the truth behind the massacre oF Prancy. For he lies as their captive and sees the real evil among the ranks of the griffons.
This, is his story...
This story is rated PG-13. For some language and violence.
Old cover art has been moved to the prologue chapter. The new cover art has been made by the ever talented DragonFoxgirl. Do go check her out. She is extremely talented and I can't thank her enough for this art piece!

This is a direct Squeal to brothers. It is recommend reading that story first to get details on some of the characters that will be involved with this story.
I like to thank my editor, FDA_Approved, who diligently worked with me throughout the process. Without his help this story would not have come to fruition. Also, another editor has come in as well, getting the details and small nicks that were missed. His name is Libertydude, he is great so do check him out.

Chapters (30)