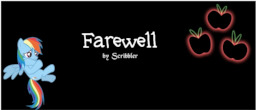 Goodbyes are hardest when you see them coming and can do nothing to put them off. That doesn't stop Rainbow Dash from trying when she has to say goodbye to her very special somepony much sooner than she thought.
Applejack/Rainbow Dash. Futurefic.
I created a full cast audio drama version of this fic can be found here.
Chapters (1)