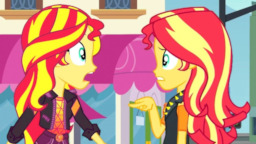 After humiliation, exile, and reformation. Sunset Shimmer has grown a lot as a person, but no matter how much you grow as a person, you never stop being you. Just ask one of her yourself.
---
A Sunset Shimmer and Sunset Shimmer one shot. Takes place a few years after the films and specials.
Featured 1/26/23, 1/27/23, and, 1/28/23 thanks for reading! Please look at my other work!
Chapters (1)