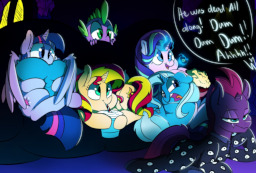 Source
Twilight Sparkle invites a bunch of her friends over to a slumber party… No, not that group of friends… The ones who've maybe dabbled in some light conquering or wholesale destruction of planets.
Part of the MAD verse.
Thanks to Tired Old Man, Nova Quill/Firimil, and
Steel Resolvefor their edits and suggestions and xxMarkingxx for the adorable picture!
Chapters (2)