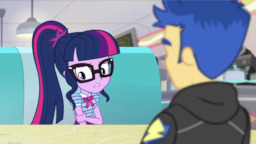 Source
Twilight Sparkle just ended a long relationship. Fortunately, she has a friend who's willing to listen. Who might, just might, be a keeper.
Sex tag is implication only.
A bit of standalone Flashlight fluff. Written as a present for SuperSonicHeroes.
While no prior knowledge or familiarity is required to enjoy this story, this story is canon to Danganronpa: In Harmony's Wake. It takes place at least two years prior to the events of that story.
Chapters (1)