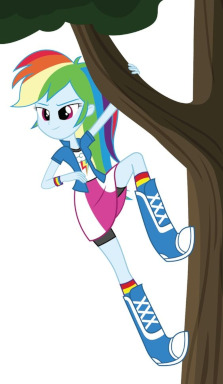 This story is a sequel to A Bunny a Day
---
The one and only Rainbow Dash. She's strong. She's funny. She's sassy. She's awesome. She's cute. So it's no wonder why you may have a bit of a crush on her... even though she'll never return your feelings.
One day, you spot the spitfire girl sitting alone in a tree mumbling to herself. And she doesn't sound happy. Maybe you can find out what's bothering her?
It probably won't work, but it's worth a try. Maybe it won't be such a bad idea after all?
---
5th installment of the The Cute, the Fluffy, and Romantic
WARNING: May contain lots of fluff
---
Idea and description by Harmony Pie
---
**Featured from August 20-21, 2016

Chapters (1)