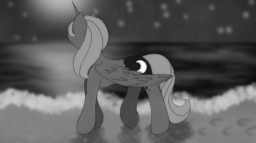 If I was to be the true Princess of the Night, it was my duty to become the first dreamwalker that ponykind had seen in countless moons. Perhaps it was not a role I was fully prepared for.
---
Written as part of an anthology for Zontan (you can find the other stories here). Many thanks to Parker and Novelle Tale for help with editing.
Lovely cover art by Snow Quill.
Chapters (1)