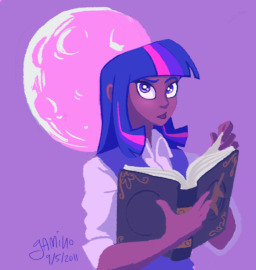 Source
"Twi, you gotta get me out of here. These human guys think I'm nuts! Nopony here has even heard of Equestria! Not to mention a pegasus or unicorn outside a book! I tried finding the other girls, but I couldn't before I got locked up. We gotta find 'em Twi. If we're here, it can't be good news back home."
Aurora Amaryllis dreamed of ponies and Equestria her whole life. She'd long thought them just flights of fancy and products of a creative youth. Then, she met Rainbow Dash. Then, her hair started changing color. Then, she started meeting other strangers, all who claimed to know her and were her closest friends.
Aurora keeps saying it's all a dream, but soon it becomes all too real. Real enough that Equestria is in danger from a foe that threatens all of the lands. Real enough that she and these new strangers are the only ones who can stop it. Real enough that Aurora must meet a destiny not even meant for her.
Will Aurora help the Elements of Harmony, save Equestria from an unstoppable menace, and live to tell the tale? Or is it all just a dream?
Thanks to Yamino for use of the cover image.
Chapters (11)