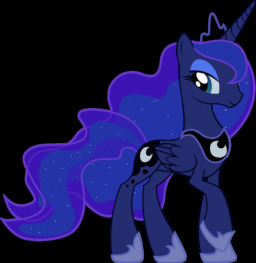 Source
*Sex tag added for adult situations, remarks, humor, etc.*
Princess Luna has returned from her 1000 year banishment on the moon. Now she must learn to cope with the changes that have occurred during her absence, while dealing with the guilt and regret from her past. In an effort to redeem herself, she tries to right her past wrongs and show the ponies of Equestria that she is no longer the evil nightmare that scared them for centuries.
During her period of repentence she rediscovers one particular group of ponies that was hit the hardest when she turned into Nightmare Moon, the 13th Infantry Division. They had pledged their loyalty to her and were one of the most elite fighting units in the entire Equestrian army. Now, their only claim to fame is their past and being the biggest joke in the military. A place for misfits and undesirable soldiers, as well as punished officers. Can the newly returned princess redeem herself and the division that devoted itself to her? Or will Princess Luna fall back into the open arms of sorrow and despair?
Pre-reading and editing from the prologue through chapter 4 were done by Arkenai
Pre-reading from chapter 5 onwards done by Auramane
A huge thanks to both of you!
Chapters (9)