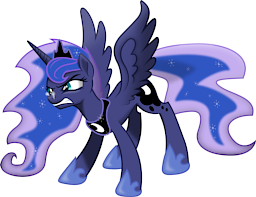 Source
During the siege of Canterlot, things look pretty bleak for Princess Luna. Sitting in her tower, she awaits for the end of everything she knows and cares for. But the light of the Moon shall not be merely extinguished. If you're going to go out, go out with a bang!
Now with a fanmade sequel/continuation by timeblitz: The Era of Equis
Pre-read by the amazing Auramane!
Edited by my friend, SubShock, and this one shot is inspired by his story, Shattered Harmony.
Cover art was found on e621 and used shamelessly.
Chapters (1)