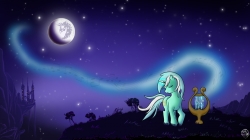 Source
Lyra's public performances continue to fail to draw the crowds she needs to kickstart her career. It takes the love and care of a certain earth pony to snap her out of her rut once more.
Featured at Equestria Daily on August 26, 2011.
Featured at Canterlot's Finest on November 8, 2013.
This story is Complete!
Chapters (1)