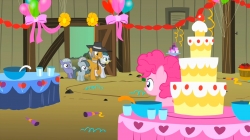 Pinkie Pie is haunted by feelings of self-hatred, stemming from the day she left her family to be on her own. Never wanting to see her best friend in a crazed state of distress again, Rainbow Dash resolves to reconnect her with her estranged family and bring an end to the personal demons once and for all.
Featured at Equestria Daily on September 28, 2011.
Featured at Canterlot's Finest on November 21, 2013.
Chapters (3)