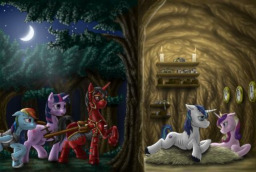 Source
Sequel to Spitfire's Pet Unicorn. (It's a one-shot.)
Cadance or Canterlot? Faced with an impossible decision, Shining Armor embarks down a dangerous path. Twilight refuses to leave his side, but when a bad decision causes the situation to escalate far beyond his control; Shining Armor must face the possibility of losing everything he loves.
After years of waiting, Rainbow Dash has finally joined the Wonderbolts but it's not turning out anything like she had hoped. When a mysterious unicorn appears out of nowhere to save Derpy and disappears just as suddenly, Dash resolves to find him; following him into a world of dark secrets she could have never possibly imagined.
Twilight can tell her brother is hiding something; he promised not to, but he is. Every night he wakes up screaming, and every day he's more afraid. She doesn't know how to help him, but he won't survive without it.
This is Cadence; can anypony hear me? We're trapped in the Everfree Forest. All I see are trees in every direction, but there's something out there; and it's coming closer. Shining Armor is sick, I think he's dying. Please, if anypony finds this message, send help.
Look at them; the blissfully ignorant citizens of Ponyville. They think their freedom comes without cost. They believe the peace they enjoy has no price. They have no idea of the war that is waged, and the sacrifices made, to win these things which they take for granted. But that is how it must be. If they ever learned the truth, everything would be undone. Listen well to my story, consider it, and then never speak of it for as long as you live. If you tell even one pony, Equestria will burn!
---
Set one year after and alternate ending to season two. Shining Armor and Cadence never married. Three weeks before the wedding was scheduled to take place, it was postponed indefinitely. No explanation was given to the citizens of Canterlot.
Chapters (48)