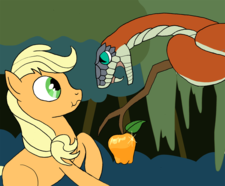 Applejack, while surveying the border between Sweet Apple Acres and the Everfree forest, stumbles across a perfectly ordinary, garden-variety talking snake. In an apple tree. The mane six, of course, decide to be neighborly.
What's the worst that could happen?
A story with religious themes, funny and thoughtful in equal turns, and without any super-depressing grim-dark or blatant preaching. It was conceived, written and edited in just three days, and won first place in the "Deal with the Devil" Writeoff competition. You can find the original (unedited) version, along with plenty of other great entries, right here. It's been awhile, but be sure to check them out if you haven't already!
Chapters (7)