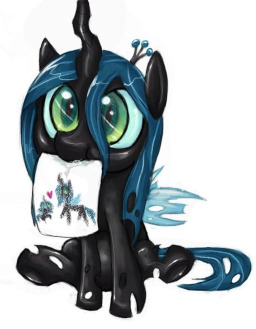 Would you believe Queen Chrysalis has a child of her own? No, she is not a warrior or military tactical genius, nor is she planning to rise against her mother and bring liberty to her people, and she is sure not planning on infiltrating Ponyville to seek acceptance from the ponies anytime soon. Heck, if asked, she probably could not even point out Equestira on the map.
The truth is, Princess Pupa Roachanov, the only child of Queen Chrysalis spends most of her time in the royal gardens, waited on by her nannies and treated with as much delicacy and care as the rarest rose. It's a quiet, meager life, but it's the only one she's ever known and she is content with it.
The only thing she ever really wishes more of is the affection of her beloved mama...
Chapters (1)