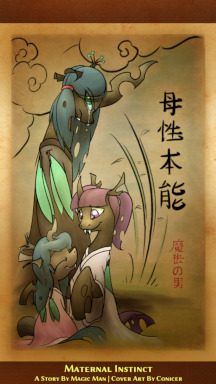 Source
Queen Chrysalis has only one grub that has survived into fillyhood; her daughter, the physically lame and mentally impaired Crown Princess Pupa. Chrysalis has never been what many would call the 'maternal type', even towards Pupa, whose adoration of her mother has no bounds. Preferring to swamp herself in the dire affairs of state, Chrysalis lets her crippled daughter be raised by her affectionate nanny.
But one day, as the Changeling Kingdom's problems reach boiling point, the Queen's already short temper erupts and she must deal with the heartbreaking consequences...
Edited and pre-read by Chaodiurn
Pre-read by Scarheart
Now with a TvTropes Page. Feel free to contribute.
Chapters (16)