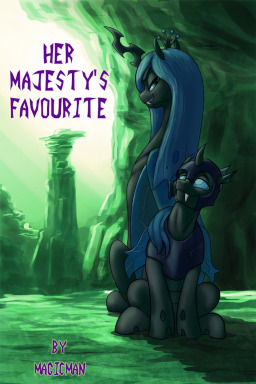 Source
Commander Cocoon has a pretty great life, by changeling standards anyway. Born and raised into his revered rank, he has everything many of his fellow changelings can only dream of: power, muscles, two gawgeous mates and the long-fought spot as the Queen's number one minion. And yet, greedy and endlessly hungry as every other changeling, all this luxury and tail still isn't enough.
When returning home to the Badlands colony after a year of conquest, Cocoon expected only to resume his humdrum life, at least until his Queen's next big crusade. He certainly didn't expect a personal invitation to the royal chambers by Queen Chrysalis herself.
That night, as the colony celebrates their soldiers' return, Chrysalis makes Cocoon an offer only a brain-dead male would refuse: to stand at her side as her consort, the first changeling prince consort in over a hundred years.
His pelvis already crying out in joy, is Cocoon really prepared to deal with the real problems and even dangers being Queen Chrysalis's top buck-buddy entails?
A follow-up to A Canterlot Wedding, The Return of Queen Chrysalis, and FIENDship Is Magic #5.
Edited and pre-read by Chaodiurn, SketchyChangeling , Scarheart and Mistermech
Cover art by Mistermech
Chapters (1)