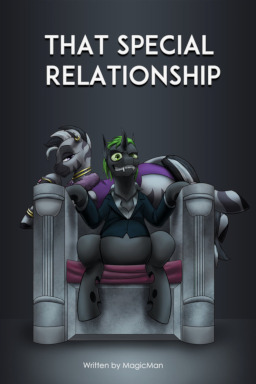 Source
It's strange times for changelingkind. Their despotic Queen has been overthrown and the traditional system of Queens with her. 'Liberty' and 'Democracy' have finally arrived for a species who've been squashed beneath the fat rump of tyranny for generations. To take the helm of their reborn nation, the changelings elect the charismatic Lord Hopper as President of the Federal Changeling Republic.
This young noble, notorious for his playcolt lifestyle of partying, booze and an infinite string of marefriends, doesn't exactly seem to fit the bill of somechangeling who's being hailed at home and abroad as the "modern champion of democracy". But now elected on a platform promising wealth and love aplenty for his revolution-wary citizens, as well as rebuilding friendly and closer relations with Equestria with the Alicorn Princesses' support, President Hopper's issue of Equestrian Times' 'Stallion of the Year' looks a shoe-in.
… Providing, of course, he doesn't totally screw it up first. As they say, "once playcolt, always a playcolt."
Edited/pre-read by: Chaodiurn, Seether00, Scarheart, nioniosbbbb, Anonymoose and Mistermech.
Cover Art by Mistermech.
Chapters (1)