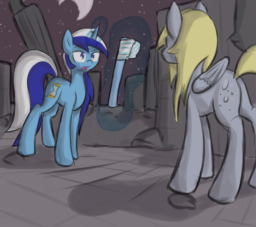 Source
After Minuette receives her hourglass cutie mark, she must join Equestria's mysterious and secretive Order of Timekeepers, the worshipers of the Titan Chronos doomed to count the hours, minutes, and seconds of every day to ensure the princesses raise the sun and moon on time. But when Queen Chrysalis begins snatching chronomasters from across Equestria, it's up to Minuette and the last remnant of the Order to stop her. With changelings at every turn, there is nopony they can trust, yet only trust can save them.
Now with its own TVTropes page!
Featured by Seattle's Angels.
Translated into Polish by Korodzik.
Thanks to adamscage for the cover art.
Part of the SALT September 2012 writing contest.
Chapters (1)