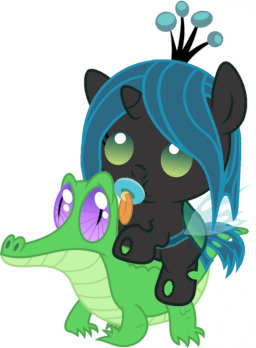 Source
This story is a sequel to Li'l Chryssy
---
You witnessed my first escapade and I will admit, I didn't have a well thought out plan.
I was quite stab happy after all...💀
Anyways, I do have a foal-pwoof plan and it will work this time!
I will escape, I will seek my wevenge.
And I won't be alone...👶
GUARD'S WARNING: the following tale contains heinous acts of adorability. This story outweighs its predecessor in terms of pweciousness and has caused test audiences to become physically edible.
Enter at your awwww-n risk.
Featured 5/3/21, 5/4/21 & 5/5/21
ALSO WITH AN AUDIO READING!.
Chapters (1)