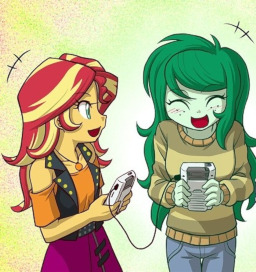 Source
Sunset and Wallflower have been dating for a while now. Wally's recently moved in, and Sunset figures it's time to introduce her lover to her fan base. Plus, it would help Wally break out of her shell a little bit. But when the show is about to start, Wallflower's fears rise to the surface, forcing her and Sunset to open old wounds.
Content warning: Transphobia
Proofread and edited by my good friend Ice Star
Cover art by Uotapo. If the artist wishes for me to remove the cover art please send me a PM.
Written for \o/ Scampy's SunFlower Shipping Contest \o/
Chapters (1)