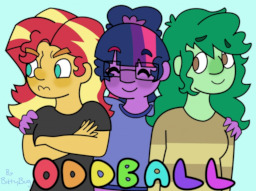 After the Fall Formal, Sunset remains as proud and stubborn as she's always been. But unfortunately for her, the students at CHS aren't going to keep letting her walk all over them. Highjinks ensue, and Sunset finds she'll have to give friendship a try; whether she wants to or not.
---
Slow burn. Story will be set in three major arcs, then maybe a fourth to tie things up.
This is a re-telling of Sunset's adventure towards redemption. Major canon divergence. SciSet is endgame, with background WallTrix.
This story is inspired by "Long Road To Friendship" by The Albinocorn so there will certainly be some similarities, but I think you'll find that I take it in a different direction

Cover art by me!
Featured on 10/7/2019!!!
Chapters (9)