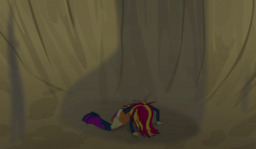 A life spent seeking power, in which she viewed others as only tools or obstacles, left Sunset Shimmer a smoking wreck in the bottom of a crater.
Now she has to figure out where to go from there.
---
This is a "filling in the gaps" story. It takes the Equestria Girls movies as canon then tells a story without the the discontinuities caused by the gaps between movies or, sometimes, between scenes.
This picks up where Equestria Girls left off and will follow Sunset's life at least as far as the ending of Rainbow Rocks. The early focus will be on how she went sobbing and alone at the end of Equestria Girls to reasonably well adjusted at the beginning of Rainbow Rocks. After that it will follow the plot of Rainbow Rocks to the point where she was no longer a pariah.
Chapters (2)