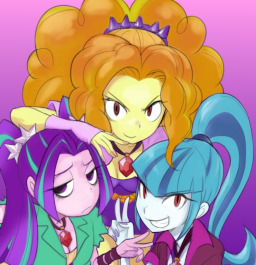 This story is a sequel to Autumn Adagio
---
Adagio used to be in charge of her life, using discourse to manipulate others, now it only feels like life is running her... ragged.
Aria has had to take on responsibilities with Adagio struggling to balance life and accepting their mortality.
Sonata... is Sonata.
Meanwhile across town Sunset and the girls are experiencing a massive upheaval in their lives by the name of Anon-a-miss.
I found the artwork on pixiv, but the page is in a foreign language to me, so have the link: Here it is!
Chapters (5)