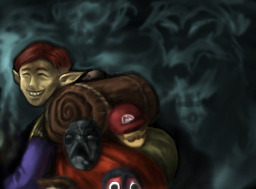 You are Anonymous, a human from Earth. One day, you got lost in a forest, and came out on the other side in a strange, colorful world. And who else was waiting for you, but a strange, red-haired man with a large pack and a creepy grin. After being forced into being a salesman, you are thrust into a strange, new world to sell your masks and bring happiness to everyone around you.
However, will you really be able to do this, being the only human in a world filled with colorful cartoon horses? And what's with all of the ponies ignoring him in the first place, and focusing all of their shocked attention on you?
Rated for language and mild sexual themes.
Chapters (15)