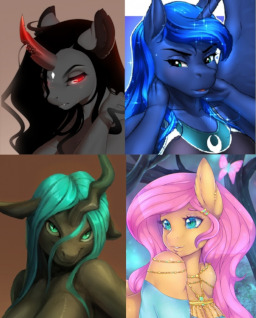 Sam was leading a peaceful and quiet life ever since he emerged in Equestria. Making his home in Ponyville, he even managed to find himself a marefriend in Fluttershy. But then Celestia comes up with the Villian Reformation Programme that puts him in quite the predicament. Three former villainesses are now living with him and Fluttershy, as the alternative for two of them was spending an eternity in Tartarus. Should be fine, right?
---
Just a note, R63 Sombra by the name of Umbra. Because why the hell not...
Had to get this one started before I do anything else.
It's a crossover with another property which I will not name until it's the proper time.
I know the cover art is a very sloppy paste job but it'll do for now.
---
Featured on October 26th! It's true I saw it!


A huge thank you to my readers!
Aaaaand it's gone...
Chapters (8)