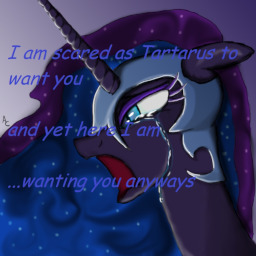 Nightmare Moon was seen like nothing more than a dark tyrant to most of her subjects. But somewhere behind the veil of her darkness, she also felt the need for sympathy, for compassion, for love...
One night a child of unknown species was found in the Royal Gardens of Nightmare Moon's Palace by two of her Royal Guards. They took the child to their Princess to see what they should do.
Nightmare Moon, even though seemed uninterested at first but after she learned some certain facts about him, she decided to keep him, and that's where this unusual story unfolds. Follow the human as he grow up to be the Knight and a Servant to her majesty...
(Set in Nightmare-verse)
(A collab between me and one of my friend)
Sex tag is due to heartwarming romance and suggestions. No detailed description involved.
Chapters (4)