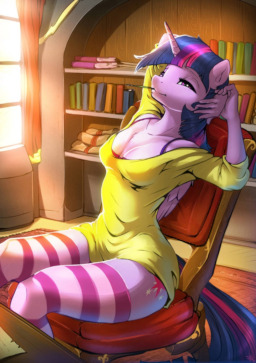 Source
Ryan O'Connor arrived in Equestria a couple years back when Twilight was checking up on Sunset Shimmer. Instead of looking through the mirror of Sunset's world, Twilight looked through another and saw Ryan was about to be buried in an avalanche during a rescue mission. Without even thinking, Twilight pulled him to safety but the way home was blocked and left Ryan stranded in Equestria. To Twilight's surprise, Ryan was pretty cool with it and decided to enjoy his stay and the company of his adorkable savior.
---
Just a little something that came to mind before and since I'm reading a lot of Twilight Sparkle stories I'd thought I should write this down for you guys. And the cover image was great inspiration as well.
It's basically in medias res and history will occasionally be told in flashbacks and referenced in dialogue.
It's mainly going to be romance, fluff and general sillyness.

Hope you enjoy!

---
Aaaand we got featured May 12th 2019

Chapters (6)