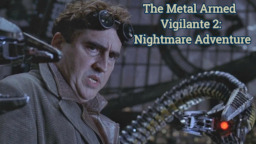 This story is a sequel to Displaced: The Metal Armed Vigilante
---
The Metal Armed Hero's Adventure Continues!!!
After the events of the last story, Jon Whalen has taken in a woman by the name of Nightmare Moon, who is Princess Luna's alter ego from the other Equestria, banished by the Elements Of Harmony and freeing the Night Princess...
Jon is in a conundrum... Something is wrong... Why doesn't he feel good?
Will The Metal Armed Hero find out what's wrong with him?
Will Nightmare Moon feel something other than a thirst for vengeance?
Will the family stick together to help fix whatever's wrong with a weakening Jon?
Stay Tuned...
Chapters (9)