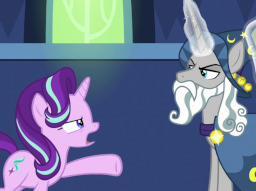 This story is a sequel to Two of Swirls
---
Lives can intersect far beyond the day-to-day physical world, but you might need to see the world through the eyes of other ponies to understand.
Come, leave your world behind for a few minutes. Experience an epic tragedy of three dear friends—and the redemption that follows.
Sometimes, everything needs to go wrong before it can finally go right.
---
A draft of this story was rated Most Controversial in the preliminary round of The Writeoff Association's "Has That Always Been There?" contest.
Chapters (8)