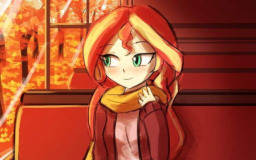 Source
Sunset asks Rainbow to come meet her at Sugar Cube Corner. She has a confession to make, one which she'd been keeping secret for a long time. When Rainbow accepts, a wonderful relationship blooms...But, will it last ?
An entry into Oroboro's Sunset Shimmer Shipping Contest.
Edited with the help of Fedairkid, make sure to check him out, as he's got some really great stories!
Chapters (4)