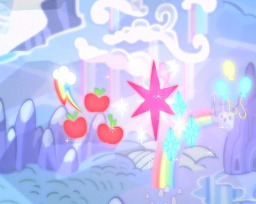 Source
This story is a sequel to My Little Mages: Kingdom of Friendship
---
Nightmare Moon; reformed into Luna
Discord; Work in Progress
Chrysalis; Haven't heard from in a while
Sombra; Stopped and body destroyed
Sunset; Turned over a new leaf
Tirek; Banished to Tartarus
The Sirens; Transformed and missing
Twilight and her friends have returned to the recently constructed Castle of Friendship, and Twilight's new home, with an ever-increasing list of accomplishments. But as they finally get to look the place over as they should, they summon a map of the world and it calls them to a spot in the middle of no-where.
What will they face there?
A harmless road trip?
Another world-threating force?
Only traveling there can tell.
A My Little Mages AU retelling of The Cutie Map
Chapters (4)