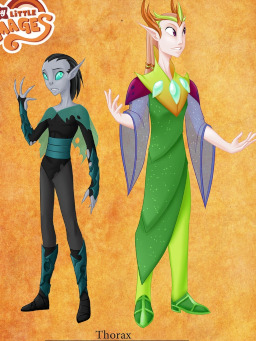 Source
This story is a sequel to My Little Mages: The Anointing
---
As the Fall Equinox approaches, Starlight Glimmer has received an invitation to her former village's Fall Equinox celebration.Seeing Starlight's nervousness about how things could go, Twilight suggests that Starlight takes a friend.
Electing to go with Trixie, Starlight ends up leaving early out of fear of becoming the tyrant she was before.
However, upon Starlight's return to Magiville, something seems off about Twilight and the others.
In the dark of the night Starlight uncovers that her suspicions were well founded, Queen Chrysalis has returned and has taken the diarchs, Twilight, and her friends. And with a report from Thorax, even Cadance, Shining Armor, and the baby Flurry Heart.
Just when all hopes seem lost, Discord takes a moment to remind everyone that the demigods aren't the only powerful beings in Mystica.
Now with Trixie, Thorax, and Discord, Starlight must brave the realm of the Changelings, The Caer Sith.
Can Starlight and the others save Twilight, Celestia, Luna, Cadance, Flurry, Spike, Fluttershy, Rainbow Dash, Applejack, Rarity and Pinkie Pie?
Can they stop Chrysalis' attempt of revenge?
Or will the Queen of the Changelings succeed in draining all the love out of Mystica for her and the hive?
A My Little Mages AU Retelling of Where and Back Again
Cover art made by Didj, go support his work.
Chapters (4)