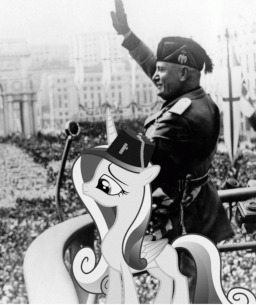 Source
Days prior to the planned march on Rome, Benito Mussolini is anxious.

Oh yes, he has been given the go-ahead from the American ambassador and has thousands of blackshirts and some of the most avant-garde fascists behind him. However, this strength is deceptive, just like the confidence he made sure to wear in front of his fellow fascists; his own blackshirt commander told Il Duce that he would not act against the king if he resisted, and there is still the army loyal to the crown that is ready to fight on his word.

Doubt plaguing him, Benito is now at a crossroad: should he continue as planned or perhaps flee Italy altogether? He decides to take a night stroll to iron out his thoughts.

That is, until a freak earthquake hits Naples and changes history forever.
Proofreading done by NoMoreSanity, Demon Eyes Laharl, and Starman Ghost.
Also featured on Equestria Daily.
Chapters (9)