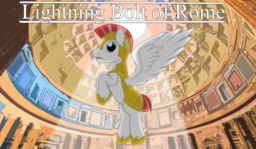 Source
While escorting Princess Celestia to Saddle Arabia, the Pegasus guard, Captain Lightning Bolt leads the entourage over a short cut in order to get to a very important summit. However, while flying over an unusual storm cloud, Bolt gets struck by lightning and falls through the storm.
In Rome, it's the beginning of Emperor Titus's reign when during a storm, a couple of his citizens came to the palace, dragging the unconscious body of a Pegasus with an interesting mark on his rump.
---
Once again, a huge thank you to PrinceCelestia for the cover art. As well as to Shadeol for editing this beast.
Chapters (30)