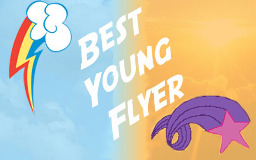 Complete!
Scootaloo has a job as a flight instructor in Cloudsdale and a cloud house of her own. She doesn't have a special somepony, but she's cool with that. Just a normal life for a normal young pegasus, until a streak of rainbow turns her life upside-down.
After all, could she really resist the chance to train for the Best Young Flyers competition with a Wonderbolt? Could she turn down an offer of no-strings-attached passion with the most awesome pegasus in Equestria? Is there any way she could not fall in love with the shining idol of her foalhood?
Could Scootaloo ever say no to Rainbow Dash?
(Obviously aged-up Scoot. Rated T for some sexual situations, but nothing graphic.)
A big thank you to dbzordie for his awesome proofreading services.
Chapters (11)