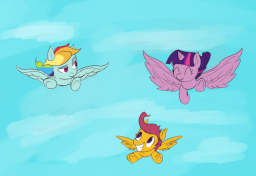 This story is a sequel to Off-Color
---
The last few months have been a journey for Rainbow Dash. She took an abused filly off the streets, got hospitalized after trying to defend her, and ended up adopting Scootaloo with Twilight.
But while they aren't together at this time, will the trials and tribulations of raising a foal together make them closer?
---
This story now has a companion fic solely for silly little one-shots! Check out Scootaloo Goes to the Dentist, Then Fights Celestia!
---
Cover art drawn by RayneTheSkunk
---
Only tagged sex for sexual humor. No sexual acts occur.
Chapters (21)