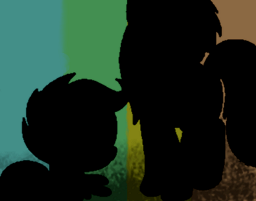 It's the day after Heart's and Hooves, and the debacle that came with it. Now freed from their various jobs, the mares and stallions are preparing for a couples-only celebration of the holiday. But when Scootaloo hears rumors about Rainbow Dash's date, she quickly becomes involved in the situation, turning once again to the books that got her and in her friends in so much trouble before.
This story could be considered a shipping of Scootaloo and Rainbow Dash, so it is going to be rated Teen for the sake of people not screaming at me. However, it is designed to be a wholesome story for all ages about growing up and feeling love for the first time, and will not involve anyone taking advantage of a young filly's feelings. Like any good story from Equestria, there will be lessons learned all around.
Cover Image is mine, but whatever, it took 5 minutes in Gimp and is public domain for all I care.
Chapters (5)