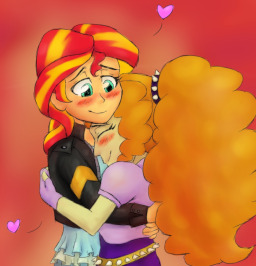 Source
This story is a sequel to Duet Beneath a Setting Sun
---
For Adagio, she's afraid of how Sunset would react, and she knows that it's only a matter of time before she has to tell her girlfriend that she's pregnant.
And on the cusp of the greatest decision of her life, Sunset finds out that Adagio had been hiding that from her.
And the fact that she's not the sire.
Coming clean isn't easy, nor are the consequences, but will both girls have what it takes to reach a new dawn?
My wonderful wonderful collab partners
RC2101_Copey
Scribe scribbles
Wonderful art by Catlover1672 on Deviantart
Chapters (2)