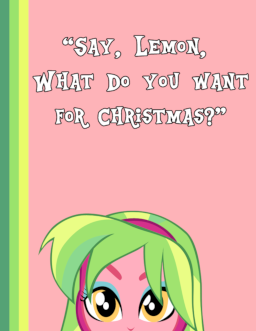 It's Christmas time, and the Shadowbolts had lost the Friendship Games and also Twilight Sparkle to the Canterlot High School. Before they could even learn and be actual friends with Twilight, she chose her new friends over them. While it didn't affect most of them, Lemon Zest certainly was.
It's up to the Shadowbolt's finest four to cheer her up on her birthday that coincided with the special holiday. Sugarcoat knew what just to give her this special time of need. A gift she would surely love, but when the other three had the same gifts, conflict ensued; after all, friendship is magic.
---
Want more shorts on EQG? Check out my the other Equestria Girls one shots!
Chapters (1)