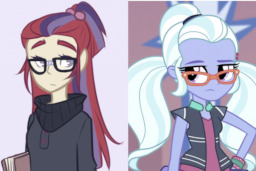 This story is a sequel to Unfriendly Competition
---
This story also contains references to Fey Breeze and Blue Sunny Days and Pink Lemonade, though reading them isn't strictly necessary.
---
The first summer vacation after the world changed was eventful for most of the top Shadowbolts. Some came to understand one another. Some got lost outside of reality. Sugarcoat and Moondancer just fumbled their way through a relationship as best they could given their combined social acumen was comparable to a sheet of sandpaper.
The school year has begun, and they're still not entirely sure how to make this whole "them" thing work. At this point, Sugarcoat is getting fed up with the passive approach.
She just never considered that Moondancer might be as well.
Part of the Oversaturated World. Rated Teen for fairly explicit discussion of things that capture teenagers' interest.
Chapters (4)