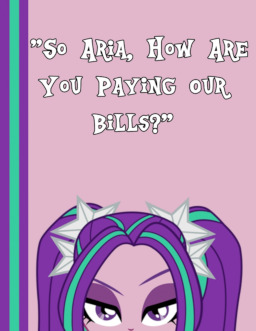 Weeks after defeat, the sirens known to many as the Dazzlings lost their magical voice. Adagio became depressed, Aria shut herself from the world, and Sonata just did what she could.
Adagio used to pay for everything, but ever since that fateful encounter, she was simply too depressed. Sonata thought she could do it, but suddenly, Aria was paying for everything.
Sonata wondered; where is she getting all the money?
---
Now has a sequel! "Whoa Adagio, Why are You So Small?"
---
Wonderfully edited by Level Dasher.
---
Want more shorts on EQG? Check out my the other Equestria Girls one shots!
Chapters (1)