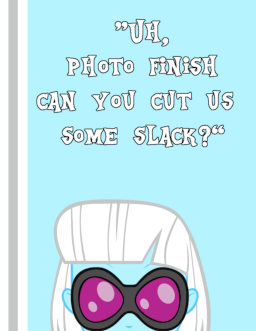 Violet Blurr had gotten used to Photo Finish's... well, everything. From holding lighting equipment to reflectors and eye shadow to foundations, Violet Blurr found herself quite in a comfortable position. Plus, she get the best photography tips from the master herself!
Pixel Pizazz, on the other hand, had enough and want to avoid Photo Finish like the plague.
Violet realized that and stepped in to save the trio's friendship.
---
Pre-read by Jet Storm and Level Dasher
Edited by AuthorGenesis
Big thanks to Level Dasher for giving the best suggestion for making this story! Which bumped the word count to heck.
---
Want more shorts on EQG? Check out my the other Equestria Girls one shots!
Chapters (1)